Scottish Electric Vehicle enthusiast, Chris Ramsey, has become the first person to complete Mongol Rally in a fully Electric Vehicle.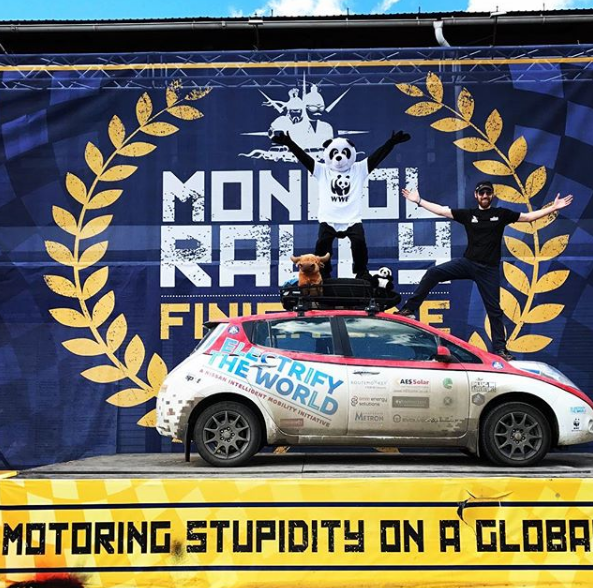 src: @pluginadventure on Instagram
The founder of Plug In Adventures crossed the finish line in his Nissan LEAF 30kWh at Ulan-Ude after covering over 8,000 miles in 55 days fueled only by electricity.
"We always thought we'd make it but you never know until you are here," said Chris, speaking from the Mongol Rally finish line in Ulan-Ude,
"We have had our doubters from day one which included industry experts, so we hope our achievement goes some way to demonstrating to everyone just how capable EVs are for everyday commuting needs.
"Electric cars are not the future, they are the present and the sooner people realise there is an EV to suit their needs, the sooner we can speed up the reduction of harmful emissions being pumped into our atmosphere."
The Team Are The First To Complete The Mongol Rally in a Fully Electric Vehicle
The 30kWh Nissan LEAF has been put through its paces through 13 countries, each with different levels of development in terms of the charging infrastructure. The fully-electric vehicle was only modified to prepare it for the grueling off-road conditions which the team faced along the road. No modifications were made to the battery or motor.
"The achievement that Chris and his team have accomplished is absolutely fantastic," said Rebecca Roper, Community Manager of ChargePlace Scotland, sponsors of Plug In Adventures,
"It is a testament not only to Chris' dedication to championing the use of Ultra-Low Emissions vehicles but also to the fact that Electric Vehicles are just as capable of traveling great distances as fossil fueled vehicles are.
"We are really proud to have supported Plug In Adventures on his amazing adventure and we look forward to hearing what he has planned for his future endeavors."
Keep up to date with Chris' adventures at @PlugInAdventure and via @ChargePlaceScot and www.chargeplacescotland.org/pluginadventures for exclusive interviews and content.
(Visited 421 times, 1 visits today)